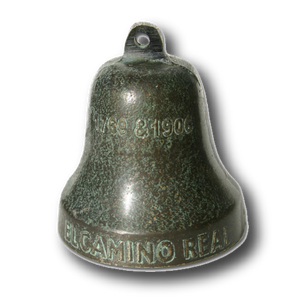 10-02022
Mission Bell - El Camino Real - 2"
10-02022
El Camino Real Bell, Brass - 2" x 2". The same one used on the 11" Guidepost Bell.
This bell is a miniature replica of the one used on the full-size Guidepost Bells installed along the historical El Camino Real which connects the 21 California Missions. The bell shows dates of 1769 and 1906. 1769 is the date of the first mission in San Diego and 1906 is the date that the first guidepost bell was installed in front of the Old Plaza Church in downtown Los Angeles. Inscription on the base reads "El Camino Real"